V3400 Wireless Imaging Wheel Alignment System with VIN
$30,567.00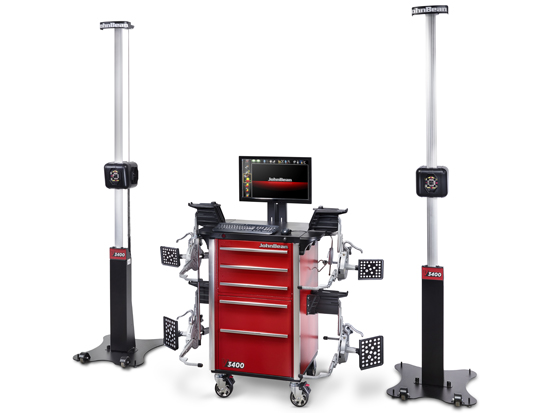 The John Bean V3400 Wireless Imaging Wheel Alignment System provides flexible installation, usage and mobility options. Patented digital camera tracking automatically adjusts to the height of the vehicle. Productivity enhancing software: automated caster sweep, help videos, rolling radius, cross diagonal, A-arm adjust and EZ-TOE. Hardware and advanced design: Automatic vehicle height tracking, drive through configuration, wireless communication and high mobility.


Features
Versatile, Accurate Hardware - Wireless Communication - eliminates connections between the camera towers and the cabinet to ease mobility and provides a variety of installation configuration. �Continous third camera calibration provides accurate reading
Speed and Productivity - Automatic Vehicle Height Tracking - the camera system follows the height of the vehicle, eliminating the need to adjust the aligner when you move the lift. Get readings in less than two minutes on a wide variety of vehicles and wh
Automatic Caster Sweep - System automatically detects when the steering wheel is turned and initiates the caster sweep function saving teim and eliminating error.
Help Video - View detailed videos of how to make needed adjustments to complete even the most complex tasks.
Rolling Radius* - Identify mismatched tire sizes - a potential cause of vehicle pulling and drive train damage.
Cross Diagonal* - Identify frame or structural issues before alignment adjustments are made.
A-Arm Adjust - Compound meter provides visual reference for simultaneous caster and camber adjustment for vehicles with adjustable control arms.
Cradle Adjust - Compund meter provides visual reference for simultaneous SAI and caster adjustment for vehicles with front sub-frames/cradles.
EZ-TOE* - Turn the front wheels and access difficult adjustment points while still displaying centered toe readings.
Options
| | | | |
| --- | --- | --- | --- |
| 119-EEWA553B-EXTWR | Package includes V3400 Wireless Alignment System and Warranty Package | $26,645.00 | Add to cart |
Accessories
| | | | |
| --- | --- | --- | --- |
| 119-EAK0289J86B | VIN Scanner | $1,818.00 | Add to cart |
| 119-EAK0305J50A | Dual Wheel Adaptors for AC400 Clamps | $199.00 | Add to cart |
| 119-EAK0305J58A | Portable Platforms for Towers | $755.00 | Add to cart |
| 119-EAK0305J77A | Docking Cleats for use with Portable Platforms | $130.00 | Add to cart |
| 119-EAK0305J78A | Mobility Kit - Includes Portable Platforms and Docking Cleats | $962.00 | Add to cart |
| 119-EAK0327T04A | ALIGNMENT KIT 40200-DSS | $2,801.00 | Add to cart |
| 119-PLATINUMWARR | 5 Years Specifications Updates, Software Upgrades, Full Warranty and Annual Optimizations and Precision Adjustments | $5,416.00 | Add to cart |