Quick Check for Drive Thru
Login for special pricing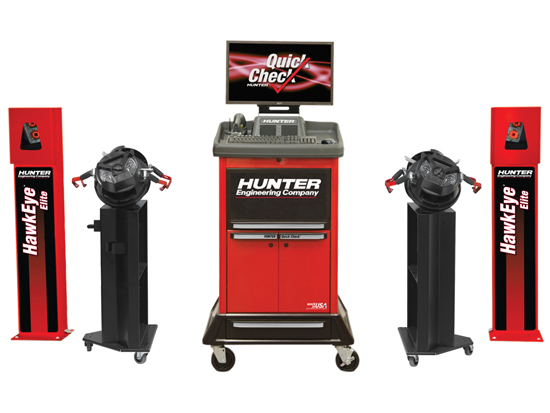 Click to view California Proposition 65 warning
Hunter's Quick Check® inspection system expands on the award-winning alignment Quick Check system. The new premium inspection system features an integrated printout that can contain results such as brake performance, tread depth health and battery health. Quick Check allows shops to carefully examine every vehicle that comes to the service lane, increasing revenue and improving customer retention.


Features
Quick Check Compact Mobile Console with 24" Monitor, open printer access, and Drive Thru Hawkeye Elite Sensors. Rolling carts for Quick Grip adaptor storage are also included.
High-resolution digital cameras measure angles with pinpoint accuracy.
QuickGrip® adaptors set up in seconds.
QuickComp™ compensates wheels and captures measurements with one forward roll.
Bar code scanner instantly enters a vehicle into the system to recall specs.
Hunter's CodeLink® for Quick Check (available as an option or part of a package) retrieves important information concerning emission control components in approximately 10 seconds.
The Hunter/Midtronics battery health tester (available as an option or part of a package) measures a battery's ability to carry electric current in about 20 seconds.
Patented tread depth gauge (available as an option or part of a package) provides a quick and easy assessment of tire conditions. Results are automatically sent to the console.
Hunter's brake performance tester (available as a package) provides a real-life evaluation of a vehicle's stopping capability in seconds.
Options
| | | | |
| --- | --- | --- | --- |
| 1-QC71BLK | Quick Check for Drive Thru – Quick Check Compact Mobile Console with 24" Monitor, Black | Login for pricing | Add to cart |
| 1-QC71TBLK | WQ372 Quick Check Mobile Console With Surface-Mounted Quick Tread Drive-Over Tread Depth Sensors, Black | Login for pricing | Add to cart |
| 1-QC71TFBLK | WQ332/HE421DT Quick Check Compact Mobile Console with 24" Monitor, open printer access, flush mounted QT DOTD and Drive Thru Haw | Login for pricing | Add to cart |
| 1-QC72 | Quick Check Drive-Under Configuration | Login for special pricing | Add to cart |
| 1-QC72BLK | Quick Check Drive Under – Quick Check Compact Mobile Console with 24" Monitor, open printer access, and Drive Under Hawkeye Elit | Login for pricing | Add to cart |
| 1-QC72TBLK | WQ372 Quick Check mobile console with HE421DU drive-under Quick Check alignment sensors and surface-mounted Quick Tread drive ov | Login for pricing | Add to cart |
Accessories
| | | | |
| --- | --- | --- | --- |
| 1-20-2817-1 | Software Upgrade Kit | Login for pricing | Add to cart |
| 1-20-3355-1 | USB to Cat5 Blackbox kit- Includes hub board, DT tower mounting bracket, 75' burndy cable, 75' cat5 cable, and Blackbox IC400A-R2 USB adaptor. Replaces 20-3281-1. Webcam cannot be mounted inside tower if using the kit. | Login for pricing | Add to cart |
| 1-20-3537-1 | ML sensor sheet metal kit, To be used converting QC systems. Available with purchase of QCD | Login for pricing | Add to cart |
| 1-20-3538-1 | Fixed column sensor sheet metal kit, To be used converting QC systems. Available with purchase of QCD | Login for pricing | Add to cart |
| 1-20-3539-1 | CM sheet metal kit. Requires WQ372 or 572 console, To be used converting QC systems. Available with purchase of QCD | Login for pricing | Add to cart |
| 1-20-3540-1 | Wall Mount sheet metal kit. To be used converting QC systems. Available with purchase of QCD. | Login for pricing | Add to cart |
| 1-20-3553-1 | HW2 QC TO WA UPGD , QC to Aligner Console Upgrade, Available with purchase of QCD. | Login for pricing | Add to cart |
| 1-20-3554-1 | v14 Quick Check to Aligner Software Conversion. To be used with version 14.x QC systems. Available with purchase of QCD. | Login for pricing | Add to cart |
| 1-20-3555-1 | v15 Quick Check to Aligne Software Conversion.To be used with version 15.x QC systems. Available with purchase of QCD. | Login for pricing | Add to cart |
Other Hunter Engineering Company Products