EuroVent System
$0.01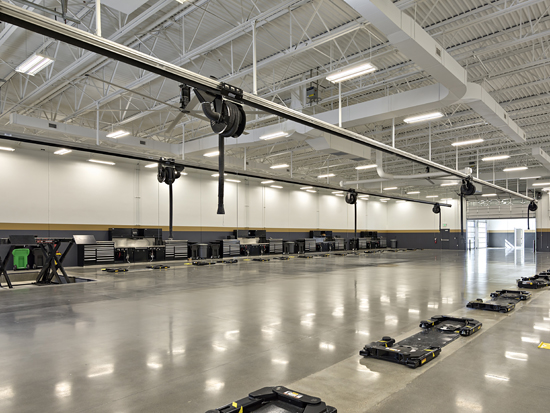 If an exhaust ventilation system is in your plans for new construction, replacing an existing exhaust system, or expanding your service facility. Be sure to check out the advantage and features of a EuroVent system from JohnDow Industries. Call for design and pricing assistance.


Features
Euro-styling enhances the appearance of any service area.
Trolley system makes efficient use of all service bays.
Exhaust rail design effectively removes harmful exhaust fumes.
Aluminum rail is designed to serve as an exhaust ventilation canal, as well as trolley rail for the sliding crab.
Self-supporting shape and lightweight construction of the rail makes installation easy.
Unique rail design allows the crab to smoothly travel along its length, utilizing eight ball bearing, Teflon� wheels.
Rail incorporates a neoprene seal that closes tight when the system is on, allowing the effective removal of exhaust fumes by the ventilation crab from any position along the rail.
Options
| | | | |
| --- | --- | --- | --- |
| 320-ALU-13 | 13" cast aluminum for automotive applications. Includes neoprene seal. | $723.00 | Add to cart |
| 320-ATS100 | Hose Support -- Used to support hose off floor (4-inch hose). | $35.00 | Add to cart |
| 320-Call | Exhaust Fans -- All fans designed for exhaust extraction systems. UL approved. Call your Dealer Consultant for proper sizing. | $0.25 | Add to cart |
| 320-CSA170/100 | Sliding Ventilation Crabs -- For ALU-170 rail (4-inch dia. hose) | $382.00 | Add to cart |
| 320-CSA170/75 | Sliding Ventilation Crabs -- For ALU-170 rail (3-inch dia. hose) | $382.00 | Add to cart |
| 320-FCA170A | Fan Connecting Flange -- Connects AVA-SP fans to exhaust rail. | $50.00 | Add to cart |
| 320-FCL170A | Duct Connecting Flange -- Connects exhaust rail to other ducting. | $50.00 | Add to cart |
| 320-FL170A | Flanged Stop -- Seals rail, prevents sliding crab from derailing. | $42.00 | Add to cart |
| 320-QCN-2041 | Tailpipe Adapter -- With gas inlet 5-1/2-inch to 4-inch dia. | $112.00 | Add to cart |
| 320-TL170A | Rail Connecting Flange -- Joins aluminum rails together. | $42.00 | Add to cart |